ECD Design Team Focus on New Release - Susan's Garden
Today members of ECD Design Team are doing another focus day and today it is for Susan's Garden's new release which consists of 8 dies. You are going to love them!
For my card today I have chosen to use 3 of the new release Galvanized Bucket, Forsythia and Frosty Fern. Sentiment is from Joset's Words 1 - Celebration set.
Be sure to visit
Elizabeth Craft Designs Blog
to see what other team members have created with this new release for Susan's Garden.
Here is how I created my card.
Step 1
Using 3 Distress Oxide Reinkers (Peeled Paint, Fossilized Amber and Worn Lipstick used here) put 3 drops of of peeled paint, 3 drops of fossilized amber and 1 drop of worn lipstick onto non stick craft mat spritz with water take 5" X 8-1/4" white Soft Finish Cardstock spritz with water then tap into ink lift and tap again drying in between continue until piece is covered and to your liking. Cut to 5" X 7" taking remaining piece add
Clear Double Sided Adhesive
to back die cut "happy birthday" then cut again from black cardstock with
Clear Double Sided Adhesive
on back place colored piece on top of black.
Step 2
Cut 5-6 pieces of
Garden Notes - Frosty Fern
from green cardstock. Using white Nuvo Drops add a little to each tip of fern
Do Not
do berries you want the white flat. Set aside to dry. Pinch up on fronds to give dimension.
Step 3
Using
Garden Notes Forsythia
die cut flowers from yellow cardstock, stems from brown and leaves from green. I cut 2 plates of flowers for each stem I cut 4 sets of stems (2 stems per set) Using green Copic marker add dot to center of each flower lay right side down on molding mat use small loop tool from
Susan's Garden 4 pc. All Metal
Tool Kit
shape each petal by pulling tool from tip to center of each petal. Turn over use medium ball tool from tool kit push into center to cup. Using
Kids Choice Glue
add flowers to stems. Shape and shade leaves add to stems.
Step 4
Using Garden Notes - Galvanized Bucket
die set cut 2 buckets and handles from gray cardstock 1 with
Clear Double Sided Adhesive
on back adhere 1 to other same with handle. Cut 2 of wooden grip from light brown cardstock. To do galvanizing see Susan's video on her Facebook page
Susan's Garden Club
found
here
. I got a little heavy with black marker so it looks more cast iron then it does galvanized.
Step 5
Form 5" X 7" card base from white
Soft Finish Cardstock
.
Step 6
Cut white
Soft Finish Cardstock
5" X 7" using largest Fitted Rectangle die set cut opening placing die approximately 1" from bottom.
Step 7
Build your card. Adhere background piece to card front using
Clear Double Sided Adhesive
. Adhere piece with opening to front of card. Take bucket pinch sides with fingers to give a little curve add a couple pieces of dimensional tape in center add
Kids Choice Glue
around outer edge of bucket making sure not to glue top opening of bucket as you will want to put your stems down through that opening. Add handle using
Kids Choice Glue
to adhere. Arrange stems and ferns adhering with
Kids Choice Glue
. Finally add happy birthday to bottom of card using
Kids Choice Glue
.
Hope that you have enjoyed this tutorial today and be sure to visit
Elizabeth Craft
Designs Blog
. You can purchase supplies by clicking on any of the supply pictures below it will take you to
Elizabeth Craft Designs
.
Until next time - Happy Crafting!
ChristineElizabeth Craft Designs Supplies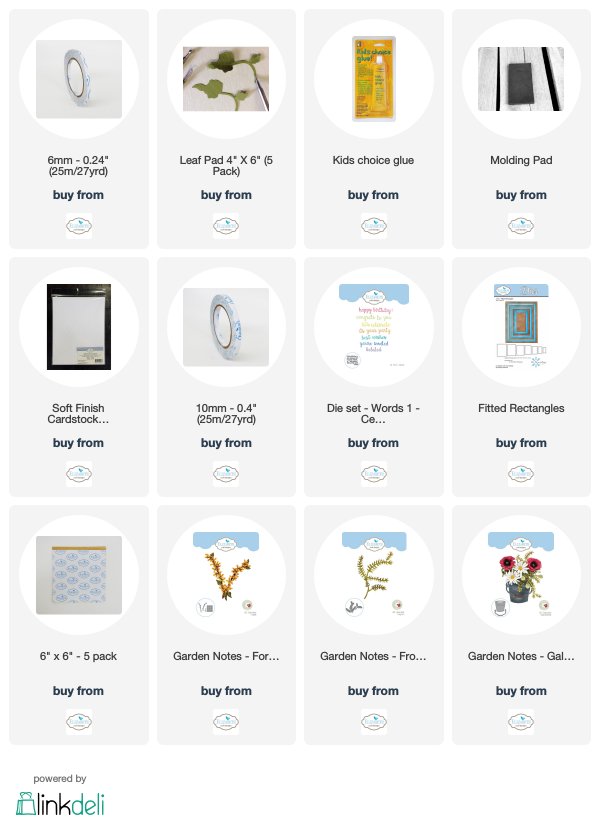 Other Supplies
Cardstock - yellow, green, brown, gray brown, black
Distress Inks - Peeled Paint, Fossilized Amber, Worn Lipstick
Nuvo Crystal Drops - white