Survivor Button Mum
Welcome My Crafty Friends,
October is Breast Cancer Awareness Month so PLEASE if you haven't had your mammogram yet schedule it today! A few years ago I started making a couple of cards each October to send to different survivors (not necessarily breast cancer but cancer survivors) so today I have my first one for October 2020.
For my card I used Susan's Garden Club Autumn Flora Button & Daisy Mum set and Foliage & Ladybug set along with one of Becca Feeken's die sets. My sentiment is from a stamp set I bought several years ago it is a fundraiser for the Breast Cancer Research Foundation and is still available from ellenhutson.com .
Card base is 6"x6" created from white cardstock. Pink cardstock was cut 5-3/4" square then embossed. Clear Double Sided Adhesive was used to adhere to card front.
Berry Branch from Foliage & Ladybug set was cut twice from green cardstock then adhered together with Kids Choice Glue. Shaded with a little green ink and shaped a little with ball tool so it wasn't totally flat. White Nuvo Crystal Drops were used to make white berries set aside to dry completely.
Eucalyptus stems from Foliage & Ladybug die set were cut from green cardstock shaded and shaped.
1 Button Mum was cut from white cardstock then colored with Copic marker (I really don't remember which pink ) shaped and assembled using Kids Choice Glue. Leaves were cut from green cardstock shaded and shaped.
From white cardstock I cut Becca Feeken's Lisette Oval Shadowbox Frame by taping them all but center piece together and cut all at once. Art Glitter Glue Dries Clear was used to attach pieces to card front all but the center oval. My sentiment was stamped with black ink then I used dimensional dots to adhere in center.
Kids Choice Glue was used to adhere the Eucalyptus, Berry Branch, Button Mum and Ladybug.
I do hope that my creation has inspired you to create a card and send it to someone that might just need a little encouragement.
I have linked products I have used - if you click on icon it will take you to Linkdeli then click again on icon and it will take you to the merchant. Sorry about the double clicking but that is how Wordpress works for me. I do thank you for any support as I earn a little commission which helps me replace my supplies and it does not add any cost to you.
Thanks for stopping by today and until next time - Happy Crafting!
Christine
You only live once if you live right once is enough!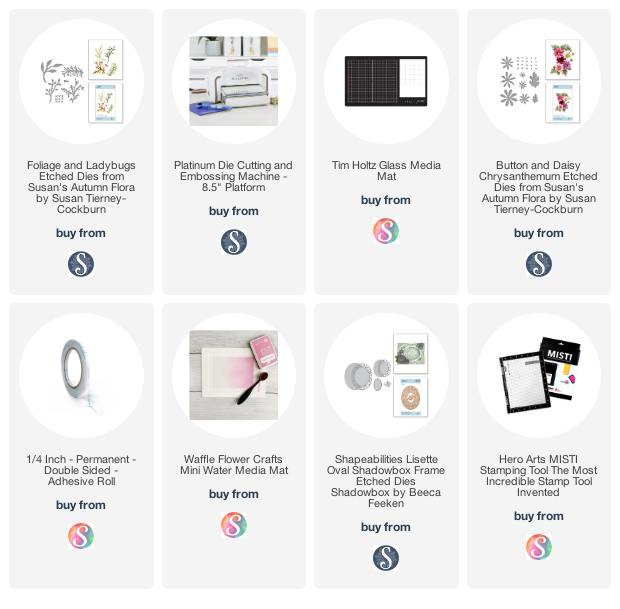 Cardstock - white, green, pink
Embossing Folder - Dots
Small corner punch
Black Momento Ink
Courage Stamp & Die Set