Sunflower Hugs
Welcome my crafty friends!
Today I have a card I created using
Susan's Garden Notes Canning Jar & Lid, Garden
Notes Sunflower 2, Garden Notes Lavender
along with
Suzanne Cannon's Sending
Hugs Kisses
die set.
ModaScrap - Wood Series
patterned paper was also used.
Here is how card was created.
Step 1
Form 6" X 6" card base.
Step 2
Cut
ModaScrap - Wood
pattern paper 5-3/4" square. Adhere to card front using
Clear Double Sided Adhesive
.
Step 3
Using
Garden Notes Lavender
die set cut 1 stem from green cardstock shade with Distress Ink. Cut plate of florets 10-16 times from yellow cardstock. Place right side up on hard rubber pad / art eraser using toothpick cup each floret. Using
Kids Choice
Glue
attach florets to stem base forming Goldenrod.
Step 4
Die cut
Garden Notes Canning Jar
twice from clear sticker paper. Using Copic Markers color 1 jar first using Y13 color whole thing. Then use E39 color leaving a small yellow area in center then add E29 coloring around edges. You want the jar to have that amber color. Adhere the clear jar over top of jar you just colored sandwiching color between the jars.
Step 5
Die cut 2
Garden Notes Sunflower 2
from white
Soft Finish Cardstock
color using Copic Markers. Cut leaves from green cardstock shade using Distress Ink. Die cut center florets from 2 shades of brown cardstock. Using Loop Tool from
Garden Notes All
Metal Tool Kit
and
Garden Notes Molding Mat
shape flowers. Using
Leaf Tool
and
Leaf Pad
shape leaves use bright green
PanPastels
from Set 1 to highlight stem line down center of leaf. Place florets on art eraser use tooth pick to cup each floret.
Step 6
Place stems of goldenrod down through top opening of canning jar. Add thin strip of dimensional tape to back of stems. Adhere jar to left side of card front.
Step 7
Build sunflowers on top of jar using
Kids Choice Glue
. Let dry then add
Brown
Pollen
to flower centers.
Step 8
From white
Soft Finish Cardstock
with
Clear Double Sided Adhesive
on back using
Suzanne Cannon's Sending Hugs Kisses
die set cut Sending and Hugs twice. Adhere 1 on top of other then adhere to card front.
I do hope that you have enjoyed my tutorial today and you will make your own version.
By clicking on any of the icons below it will take you directly to that item on
Elizabeth
Craft Designs
website or click on Elizabeth Craft Designs Shop button on right side of my page.
Thanks for taking the time to stop by my site today!Until next time - Happy Crafting!
ChristineElizabeth Craft Designs Supplies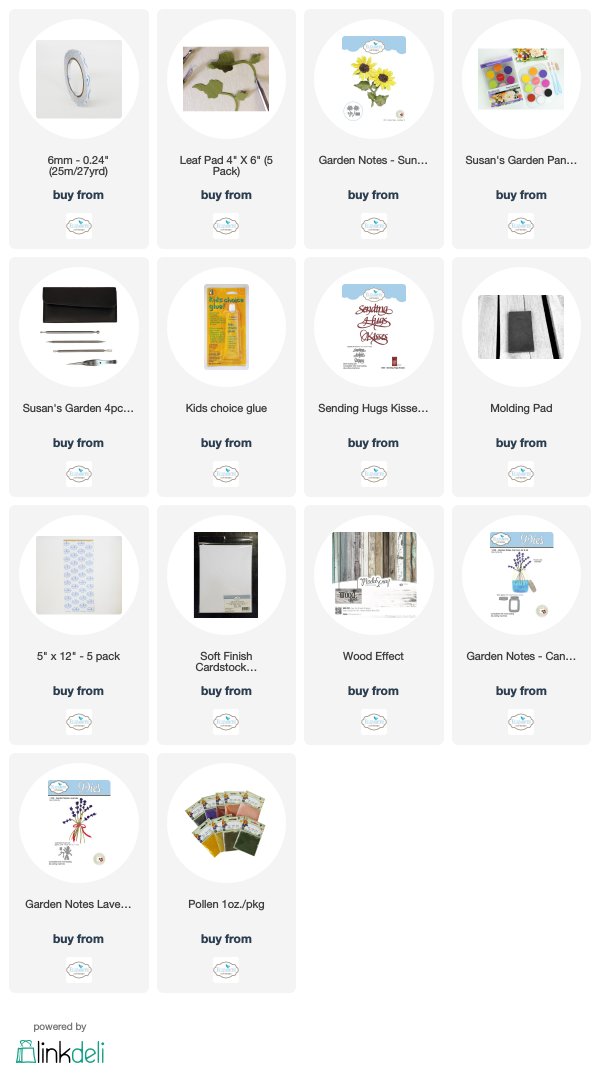 Other Supplies
Cardstock - green, 2 shades of brown
Silhouette Clear Sticker Paper
Copic Markers - Y13, Y15, Y17, E29, E39