My Once In A Lifetime
Hello my crafty friends welcome to my blog!
Today I have an anniversary card which I made for my hubby to celebrate our 49th anniversary. For this card I combined using dies as well as old school of stamping and fussy cutting for my main image.
Here is how it was created.
Step 1
From white
Soft Finish Cardstock
cut heart using
Els van de Burgt Studio
Stitched Hearts
- 4th largest die. Using
Susan's Garden Notes Earth & Sky Stencil
and
PanPastels Set 2
blue for sky green for grass.
Step 2
Using black ink stamped couple on bench twice onto white
Soft Finish Cardstock
. Using alcohol markers color both images then fussy cut both.
Kids Choice
Glue
adhere 1 image to heart.
Step 3
Using clear Nuvo Crystal Drops add raindrops to heart and umbrella of second image. Set aside to dry.
Step 4
Form 6" X 6" tent fold card base. Emboss front of card with embossing folder of your choice.
Step 5
For inside of card cut white cardstock 5-3/4" X 11-3/4" score in half. Using
Garden
Notes Earth & Sky Stencil
along with Garden Notes PanPastels Set 2 add clouds and grass.
Step 6
Cut Pop Up in center lining up in center fold using largest die in
Elizabeth Craft
Designs General Pop Up
die set. Work folds in pop ups. Add
Clear Double Sided
Adhesive
to back staying away from the pop ups. Adhere to inside of card lining up the creases and edges.
NOTE:
work 1 side at a time removing protective covering from adhesive.
Step 7
From black cardstock cut 2 ( 1) piece with
Clear Double Sided Adhesive
and (1) without adhesive Happy Anniversary from
Suzanne Cannon Happy Anniversary
die set. Adhere one with adhesive on back to top of one without adhesive. Cut very narrow strips of clear plastic adhere to back of words using
Kids Choice Glue
on anniversary add narrow plastic vertical strip back side centered (this will give you something to use to adhere to pop up) adhere to front pop up using
Kids Choice Glue
. Adhere happy using
Kids Choice Glue
to top pop up.
Step 8
Cut 2 - 49th from black cardstock with
Clear Double Sided Adhesive
on back adhere one on top of other then adhere to card at base of pop up.
Step 9
Once raindrops are dry on second image add dimensional tape to back adhere directly over first image on heart.
Step 10
Adhere heart to card front using
Clear Double Sided Adhesive
.
Step 11
Using black ink stamp sentiment on 3/4" X 1-3/4" white
Soft Finish Cardstock
then adhere to black cardstock cut 1" X 2". Using dimensional tape on back adhere to lower right of card front.
Hope you have enjoyed my tutorial today. For any of the
Elizabeth Craft Designs
supplies used for this card just click on any picture it will take you directly to site.
Until next time - Happy Crafting!
ChristineElizabeth Craft Designs Supplies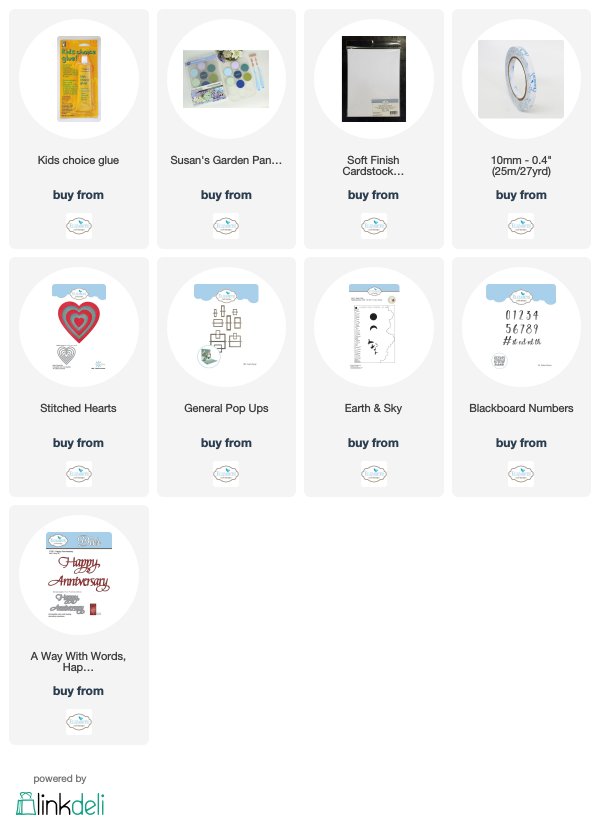 Other Supplies
Cardstock - black, white
Alcohol Markers (Copic used here)
Nuvo Crystal Drops - Morning Dew
Stamp Set - ArtImpressions - Love Birds