Happy 4th
Hello my crafty friends welcome to my blog and Happy 4th of July to all that celebrate it!
Today I have a quick little post for you. I like to make treat boxes for different holidays for my co-workers fill them with some candy and have a prize for 1 lucky winner. So when
A Way With Words
came out with this new
Gable Box
I just had to use it. Made a total of 24.
Here is how I did it.
Step 1
From white
Soft Finish Cardstock
using
A Way With Words Gable Box
die cut t box.
Step 2
Using yellow ink random stamp stars on box using
Joset's Summer Fun Sentiment
Stamp Set.
Step 3
Crease on all fold lines well then assemble box using
Clear Double Sided
Adhesive
.
Step 4
Using
Joset's 4th of July die set
cut flag and large burst. Attach burst to box front using a bit of
Clear Double Sided Adhesive
then add a bit of
Kids Choice Glue
on back of flag pole attach to box.
Step 5
From black cardstock with
Clear Double Sided Adhesive
on back die cut 4 th using
Joset's Blackboard Numbers
and happy from
Joset's Words 3 - Happy Holidays
. Attach to box.
Step 6
Fill with treat of choice.
[gallery ids="5721,5720" type="rectangular"]
Hope that you have enjoyed this quick tutorial and will make some of your own for any occasion - baby shower, holidays, birthdays etc.
For any of the Elizabeth Craft Designs products used today just click on any of the pictures below and it will take you to their site where you can purchase.
Thanks for stopping by today and until next time - Happy Crafting!
Christine
Elizabeth Craft Designs Supplies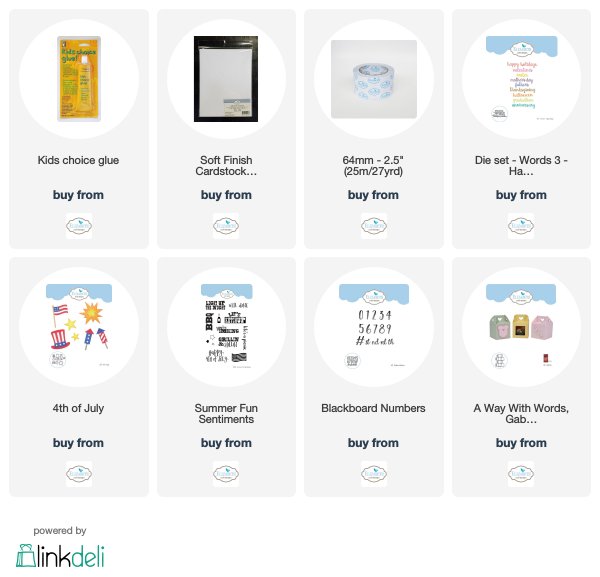 Other Supplies
Cardstock - black, red and blue
Yellow Ink