Designer Hexagon Challenge
Hello Everyone,
Welcome to my blog. Today is challenge day for the Elizabeth Craft Designs Design Team. This month our challenge is
Hexagon Inspiration
this is the card I designed for the challenge. Be sure to go to
Elizabeth Craft Designs blog
at this
LINK
to see what the other Design Team members have created using Joset's newly released Stitched Hexagons and Fitted Hexagon dies. While there, be sure to answer the question for a chance to win a $20.00 Gift Certificate to Elizabeth Craft Designs.
The question for $20.00 giveaway this month is
what is your favorite way to use Elizabeth Craft Designs Stitched Hexagons or Fitted Hexagons dies.
Winners will be announced Friday June 22, 2018.
Here is how my card was created.
Step 1
From green cardstock using Garden Notes Leafy Berry Branch cut 1 set. Lay right side down on molding mat using medium ball tool rub backs of leaves to give a bit of dimension, turn over and run ball tool down stem and branches. Using Nuvo Crystal Drops (Dandelion Yellow used here) make berries. Set aside to dry. When berries are dry on right side add berries to back side set aside to dry.
Step 2
Form 6" X 6" card base. (
Elizabeth Craft Designs Soft Finish Cardstock -Cafe au
Lait
used here)
Step 3
Cut patterned paper 5-3/4" square adhere to card front using
Clear Double Sided
Adhesive
. (
ModaScrap - Wood Effects
used here)
Step 4
From same cardstock as card base that has
Clear Double Sided Adhesive
on back cut 2 frames using
Joset's Designs Stitched Hexagons
. Using 2 largest hexagons cut 1 frame then use next 2 sizes to cut second frame. Lay 2 dies together lining up evenly tape together with removable tape lay on your cardstock then die cut. Adhere to card front.
Step 5
Using
Joset van de Burgt Words 4 - Remember
cut twice
With Sympathy
from black cardstock that has
Clear Double Sided Adhesive
on back. Adhere to card front in upper half of smallest rectangle frame to allow room for flowers below.
Step 6
Cut
Garden Notes Maiden Hair Fern
from green cardstock. Shade using ink. Lay right side down on molding mat use medium ball tool to rub back of leaves turn over run ball down stem.
Step 7
Cut 3 poppies from white Soft Finish Cardstock (you can use colored cardstock if you prefer) using
Susan's Garden Notes Poppy 2
die set. Color/shade and shape your flowers. Susan has a great video to help with this on her Facebook page
Susan's Garden
Club found
here
.
Step 8
Assemble your bouquet on card front using
Kids Choice Glue
Starting with ferns then berry branches and last the poppies.
Here is another card I created using the Stitched Hexagons it was done for the Inspiration day of Joset's new release and was posted on this blog with tutorial.
I do hope that you have enjoyed this post today! For any of the
Elizabeth Craft Designs
products
I used just click on pictures below it will take you to their site where you can purchase. Don't forget to check out their blog for what the other designers have created and answer question for chance to win $20.00 gift certificate.
Until next time - Happy Crafting!
ChristineElizabeth Craft Designs Supplies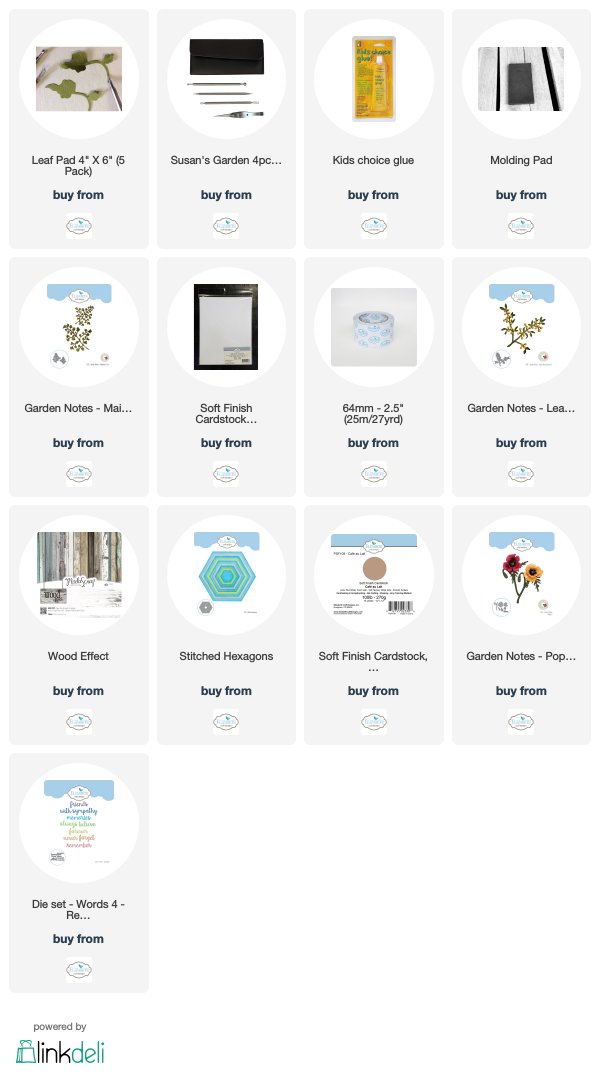 Other Supplies
Cardstock - green, black, yellow
Nuvo Crystal Drops - Dandelion Yellow
Copic Markers - FBG2 & B12