Tulips
Hello my crafty friends!
Today my post is a card I designed using a picture from Facebook as my inspiration and a little hope that we shall see tulips coming up here in Maine soon even though as I am looking out my window it is snowing hard.
Here is how the card was made.
Step 1
- Card Base is 6" X 6". Cut
dark chocolate Soft Finish Cardstock
6" X 12" score at 6" fold on score line. Cut
white Soft Finish Cardstock
5-1/2" X 5-1/2" adhere to card front using
Clear Double Sided Adhesive
. Using largest
'
die cut patterned paper (5-1/4" square) (
ModaScrap - Wood Effects
used here). Adhere to card front using
Clear Double sided Adhesive
.
Step 2
Cut circle frame from
white Soft Finish Cardstock
using 2 largest
ModaScrap
Dashing Circle
dies. Lay dies onto cardstock on cutting plate lining them up evenly spaced put little removable tape to hold in place die cut. Save the inner circle for another project adhere frame to card front using
Clear Double Sided Adhesive
.
Step 3
Cut 2
Garden Notes Pottery Pitcher
from
white Soft Finish Cardstock
1 of which has Clear Double Sided Adhesive on back - place this one on top of second pitcher. Lay right side down on molding mat using large ball tool from
Garden Notes 4 pc Tool Kit
rub back of pitcher giving it a little rounded shape. Coat with VersaMark add clear embossing powder then heat. Add pop dots to center of lower half and
Kids Choice Glue
all around very outer edge - make sure to leave pitcher opening free of glue so tulip stems can be put down into opening.
Step 4
Make tulips. Cut 5 yellow and 5 white using
Garden Notes Tulip 2
die set. Cut leaves and stems from green cardstock - I cut a few extra of stem only. Susan has a tutorial on her Facebook page -
Susan's Garden Club
you can watch it
here
.
Step 5
Arrange stems with leaves in pitcher opening adhering in place with
Kids Choice
Glue
. Add a few extra stems to fill in then add tulips to stems again with
Kids
Choice Glue
.
Step 6
Using
Suzanne Cannon's Family
die cut it twice from black cardstock with
Clear
Double Sided Adhesive
on back as well as twice from white cardstock with
Clear Double
Sided Adhesive
on back. Stack the black on top of each other then white off setting them just slightly to give shadow effect. Adhere to card front to left of pitcher.
If you click on any of the supply pictures below it will take you directly to ECD site.
Hope this is an inspiration to you to make your own bouquet of tulips.
Until next time - Happy Crafting!
Christine
This was inspiration picture for my card today it is a bit brighter than mine.
Elizabeth Craft Designs Supplies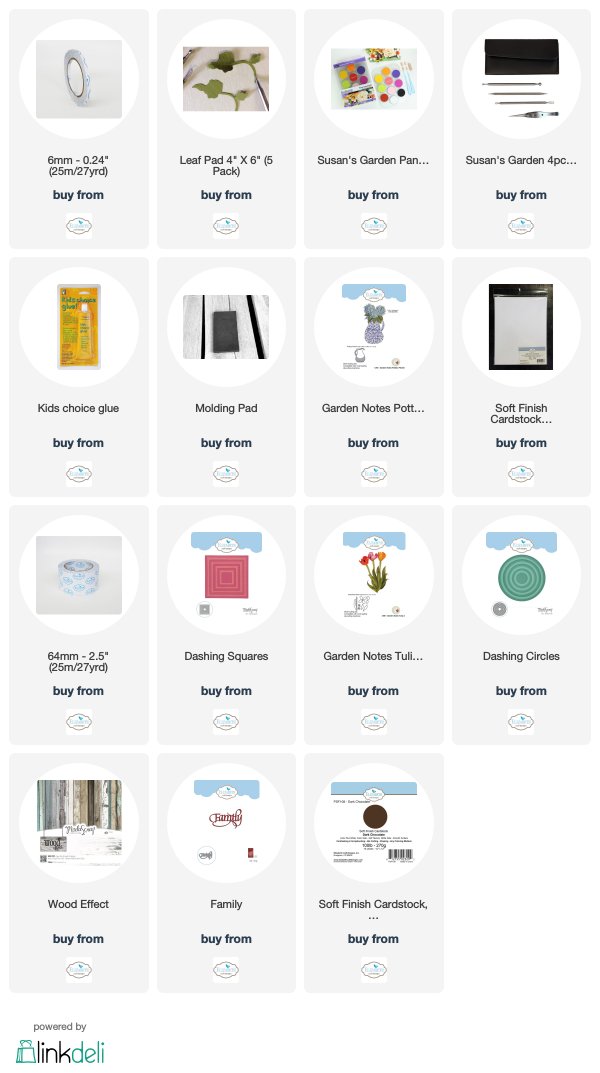 Other Supplies
Cardstock - yellow, green,black
Pop Dots
Clear Embossing Powder