Courage
Welcome My Crafty Friends! Spring has arrived finally and I believe we are all happy about that at least I know I am.
Sadly we are all touched by "Cancer" at some point in our lives some more than others. I know my family and friends have been touched many times. Today my card is for a friend that has just recently been diagnosed with breast cancer.
Here is how I created my card.
Step 1
Cut 2
Garden Notes Berry Branch
from brown cardstock. Using pink Nuvou crystal drops make berries on branches. Do 1 side let dry then do back side and let dry. I do both sides like Susan does but it is optional.
Step 2
Form 6" X 6" card base from white cardstock. Emboss card front with embossing folder of your choice.
Step 3
From white
Soft Finish Cardstock
cut 3
Garden Notes Round Grapevine
Wreaths
. Using
Kids Choice Glue
just dab around center area on back of wreath (no glue on the little branches) attach 1 wreath at a time to card front giving each wreath a quarter turn to off set each wreath. Once dry pull up on some of the branches to give it fullness.
Step 4
Using
Garden Notes Lilac 2
and 85# white
Soft Finish Cardstock
color front and back of a piece large enough to cut flower plates 2-3 times each. Just kind of scribble you want little areas of white and varying shades. Shape and build your lilacs Here is Susan's video for making lilacs.
https://www.facebook.com/SusansGardenClub/videos/1549255328524255/
Step 5
Cut 3 pink tulips and 2 white tulips using
Garden Notes Tulip 2 die set
. Shape and build tulips. Susan's video below for making tulips.
https://www.facebook.com/SusansGardenClub/videos/1578570782259376/
Step 6
From green cardstock cut 1 set of Garden Notes Ladder Fern.
Step 7
Using
Suzanne Cannon's Courage die
to cut from white
Soft Finish Cardstock
that has Clear Double Sided Adhesive on top twice and once from cardstock with adhesive on top and bottom (this will be the bottom of the stack). Cut once from pink glitter cardstock. Cut ribbon from
Suzanne Cannon's Hope die set
3 times from white
Soft Finish Cardstock
with Clear Double Sided Adhesive on top then once from pink glitter cardstck. Stack together. You are making 3 pink ribbons and 1 Courage.
Step 8
Assemble using
Kids Choice Glue
starting with ferns. Ferns, berries, lilacs, tulips then leaves. Add courage to bottom under wreath and use pop dots to add ribbons.
Hope you have enjoyed my tutorial today. By clicking on any of the product pictures below it will take you directly to
Elizabeth Craft Designs
site.
Until next time - Happy Crafting!
Christine
Elizabeth Craft Designs Supplies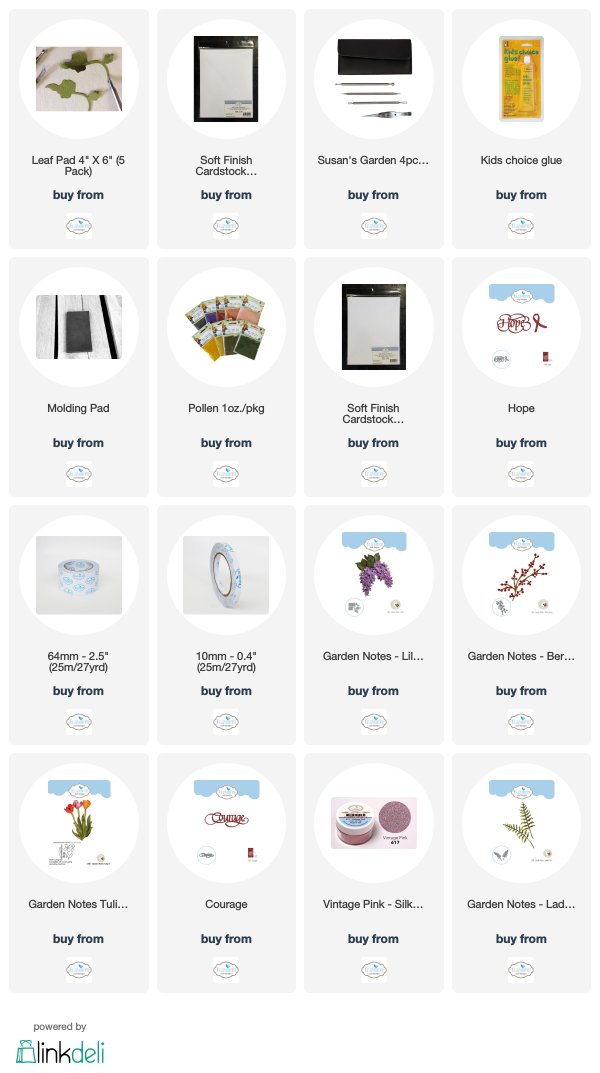 Other Supplies
Cardstock - Green, Brown, Pink
Glitter Cardstock - Pink
Embossing Folder - Dots
Nuvou Crystal Drops -