Valentine Pansies
Welcome all my crafty friends!
Valentine's Day is quickly approaching and today I am posting a couple that I have created. They are same card but I changed out the color of pansies a bit and used ferns. These cards were created using Susan's new releases
Garden Notes Pansy 2
and
Leafy
Berry Branch 1
along with a couple of her ferns from last release. The hearts are from
Becky Seddon's
new releases
Heartfelt Love
and
Love Struck
.
Here is how the card was created.
Step 1
Cut 1
Garden Notes Berry Branch 1
from green cardstock. Using Nuvo Crystal Drops add berries let dry. Repeat on back side and let dry.
Step 2
Cut white cardstock 6" X 12" score at 6" fold on score line - 6" X 6" card base formed. Dry emboss front of card.
Step 3
Cut large solid heart from red cardstock using
Becky Seddon's Heartfelt Love
die set. Attach to card front using
Clear Double Sided Adhesive
.
Step 4
From white Soft Finish Cardstock cut lacy heart using
Becky Seddon's Love Struck
die set. Attach to front using
Clear Double Sided Adhesive
only on back of solid part of heart (leave lace edge free)
Step 5
From gold cardstock cut the 2 piece arrow from
Love Struck
die set attach using
Kids Choice Glue
.
Step
6 Cut 1 set of ferns from green cardstock using fern die set of choice. Shade a little with Distress Ink and bend up fronds to give dimension. Attach to card front with
Kids
Choice Glue
added to just stem area. Add
Leafy Berry Branch
in same manner arranging over ferns.
Step 7
Cut, color and shape 3
Garden Notes Pansy 2
and several leaves using white
Soft
Finish Cardstock
. Susan has a video on her Facebook page showing how to do pansies you can find it
here
which is dated January 27th. Attach to card front using
Kids Choice
Glue
.
Step 8
Cut red cardstock 2-3/4" X 1-1/4" . Cut white
Soft Finish Cardstock
2-1/2" X 1" attach to red cardstock. Using black ink stamp Happy Valentine's Day from
Joset's Love
Sentiments
onto white cardstock. Attach to lower right corner of card front using dimensional tape.
I do hope you have enjoyed my tutorial today and will create some of your own valentines. For any of the
Elizabeth Craft Designs
supplies you can click on any of the pictures below and it will take you directly to their site.
Until next time - Happy Crafting and remember "You only live once, but if you live right, once is enough"
unknown
Elizabeth Craft Designs Supplies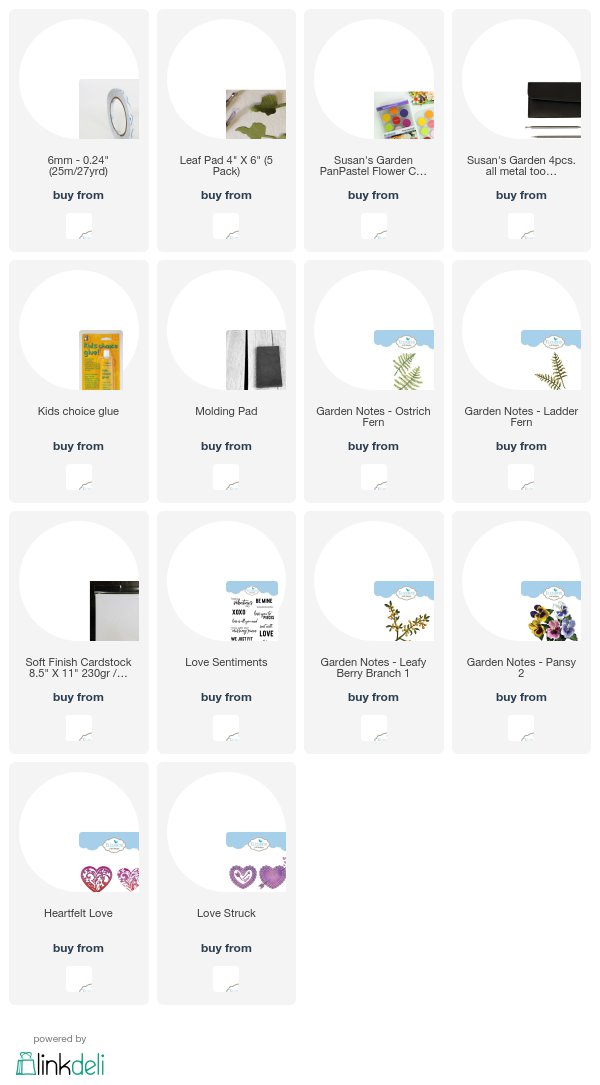 Other Supplies
Cardstock - green, red, white, gold
Nuvo Crystal Drops
Copic Markers
Dimensional Tape
Black Ink