Lacy Love In A Mist
Hello My Crafty Friends welcome to my blog!
Today my post is a card I did using my first attempt with the shibori technique that Susan recently did on her Facebook
Susan's Garden Club
page. Mine came out quite light so my next attempt will need some work on paint to water ratio but when I saw the color I just knew
Love In A Mist
would be the perfect flower to use with it.
My card today February 28th, is for my nephew, sister, father and brother which probably sounds a bit strange but for my nephew it is his birthday, my sister who died having him, my Dad who died 45 year to the day after my sister losing his battle with mesothelimoa and my youngest brother's funeral was on this day 3 years ago.
Here is how it was created.
Step 1
Make shibori background referring to
video
on Susan's Garden Club on Facebook
Step 2
Cut
Garden Notes Berry Spray
from brown cardstock. Using Nuvo Crystal Drops add berries to branch set aside to dry. (Midnight blue drops used here)
Step 3
Form 6" X 6" tent fold card base.
Step 4
Make frame from 100 lb white
Soft Finish Cardstock
using
ModaScrap Dashing
Square
. (Picture shows black cardstock but it was just to show how frame was cut)
Step 5
Attach shibori type piece to card front using
Clear Double Sided Adhesive
making sure to center.
Step 6
Cut 1
ModaScrap Lace Card
from white
Soft Finish Cardstock
trim off side tabs and straighten bottom. Attach to back side of lower half of frame using
Kids Choice
Glue
. Using
Clear Double Sided Adhesive
attach frame to card front.
Step 7
Cut 1 set of
Garden Notes Ladder Fern
from green cardstock shade with Distress Ink, shape using
Susan's 4 pc. Tool Kit
along with molding and leaf pads. Using
Kids
Choice Glue
attach to lower right corner of frame.
Step 8
Cut, shade, shape and build 1
Garden Notes Love In A Mist
(mine was cut from blue cardstock and shaded with
PanPastels Set 2
) but you can cut from 85# white
Soft
Finish Cardstock
and color with Copic Markers as well. Flower was assembled directly onto card using
Kids Choice Glue
.
Step 9 Cut apart
Garden Notes Berry Spray
tucking around flower using
Kids Choice
Glue
to attach.
Step 10 Using self sticking pearls to corners and on lace.
Thanks for stopping by today I sure hope you have enjoyed this tutorial. See below for supplies used. If you click on any of pictures of the
Elizabeth Craft Designs
supplies it will take you directly to the site.
Until next time - Happy Crafting!
ChristineElizabeth Craft Designs Supplies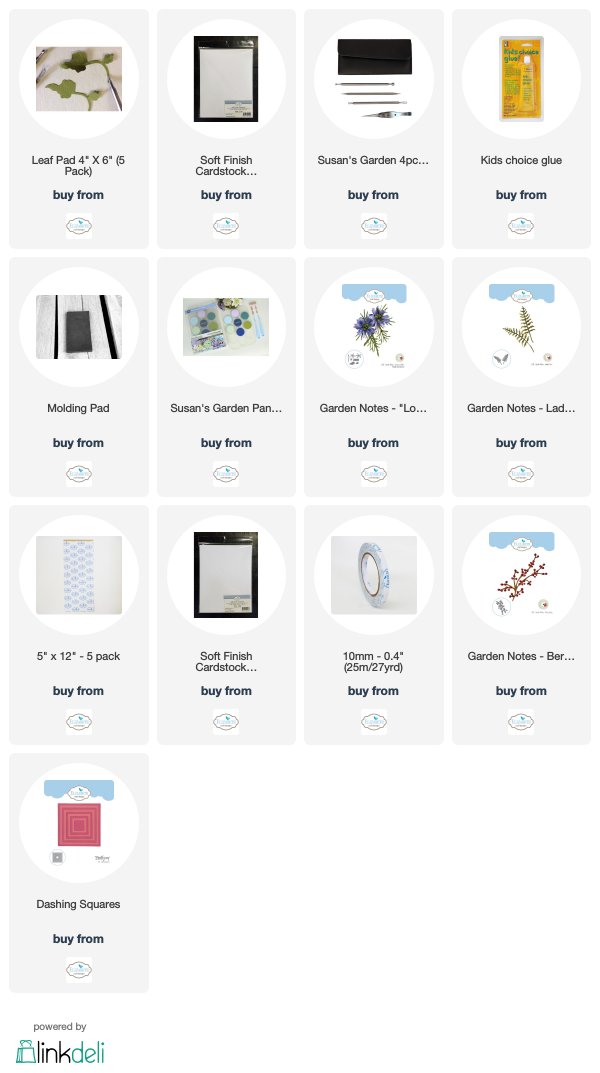 Other Supplies
Pearls
Nuvo Crystal Drops
Cardstock - brown, green, blue
Distress Ink - Peeled Paint
Remember - "You only live once, but if you live right, once is enough!
author unknown