Always Hope
Welcome to my blog all my crafty friends!
Hope you are all finding some time to create some projects.
Today my card is one that was requested by a friend. She had liked the pink one I had done but wanted something for a male so this is what I came up with.
Step 1 From brown cardstock with Clear Double Sided Adhesive on back cut 1 Garden Notes Berry Spray and cut 1 without the adhesive on the back. Adhere 1 on top of other making a sturdier branch. Add berries using Nuvo Crystal Drops (Navy Blue used here). Set aside to dry. I did berries on both sides of branch like Susan does so you will have to let 1 side dry then go back do other side and let that dry.
Step 2 Cut, color, shape and assemble 3 Garden Notes Love In A Mist flowers. You can use blue cardstock or cut from White Soft Finish Cardstock and color with alcohol markers. Cut leaves from green cardstock. Susan has videos on her Facebook page Susan's Garden Club. October 11th she did Love In A Mist.
Step 3 Form card base from 10" X 7" White soft finish Cardstock score at 5" fold on score line forming a 5" X 7" card base.
Step 4 Cut piece of colored cardstock 4-3/4" X 6-3/4" (a blue metallic was used here) adhere to card front using Clear Double Sided Adhesive.
Step 5 From White Soft Finish Cardstock with Clear Double Sided Adhesive on back and using A Way With Words - Flourished Frame as well as the word Hope. Attach to card front.
Step 6 Finish card by adding flowers, foliage and berry branch adhering with Kids Choice Glue.
Step 7 from White Soft Finish Cardstock with Clear Double Sided Adhesive on back cut 1 card stand and then cut 1 without adhesive. Adhere one with adhesive on top of one without. Emboss. I always include a stand with my card.
I truly hope you have enjoyed this quick tutorial today and it has given you inspiration.
Always remember -
You only live once, but if you live once, once is enough!
(author unknown)
Until next time - Happy Crafting!
Christine
To purchases any of the Elizabeth Craft Designs products just click on the pictures below it will take you right to their site.
Elizabeth Craft Designs Supplies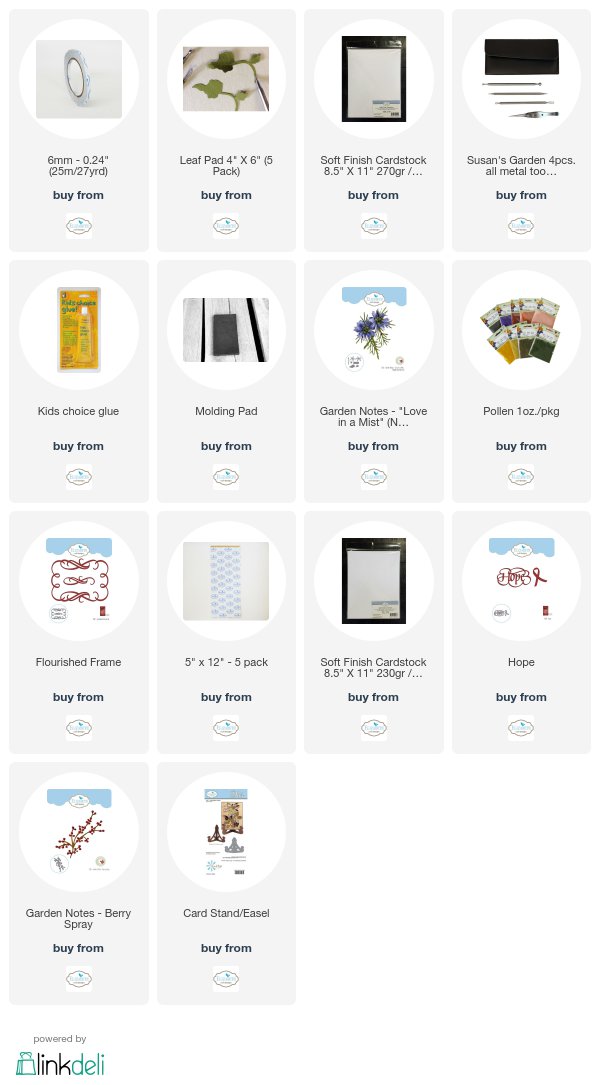 Other Supplies
Nuvo Crystal Drops - Navy Blue
Metallic Cardstock
Cardstock - green, brown and blue (if you do not want to color)
Copic Markers (if coloring) BV13 & BV34