Noel Pines
Welcome to my blog all you crafty friends - thanks for stopping by today.
It is time again for another challenge for Susan's Garden Design Team and this month the challenge is to use red, green and gold in our design so I have chosen to do a Christmas card. My card today is based on what I use for holiday decor around my house and I am a lover of rustic and primitive. This wooden crate filled with pine boughs and red berry branches is what you would find adorning my deck.
Be sure to visit Elizabeth Craft Designs to answer the question and enter your name for a chance to win! The question is
"What Susan Garden products would you like to find under your Christmas tree this year?" http://blog.elizabethcraftdesigns.com/?p=28707
For today's challenge Elizabeth Craft Designs
are giving away a
$20 Gift Card to use on the Elizabeth Craft Designs website
to
3 winners.
To enter simply answer the question on the
Elizabeth Craft Designs Challenge post.
We will select 3 lucky winners in a random drawing
The winners will be announced on Friday, December 13th, on the Elizabeth Craft Designs blog.
***************
Here is how card was created.
Card Base:
Cut Forest Green Soft Finish Cardstock 7" X 11" score at 5-1/2" fold on score line. Ink all edges using Pine Needles Distress Ink.
Cut red cardstock 6-3/4" X 5-1/4" ink edges with Distress Ink color will be whatever red matches your red cardstock. Attach to card front using Clear Double Sided Adhesive.
Cut Gold Metallic Shimmer Sheetz 5" X 6-1/2" (
Note:
a little trick to save on your Shimmer Sheetz cut center out of it using a rectangle die or your cutter if you don't have a rectangle die just make sure that you cut it a little smaller than the white piece of cardstock). Attach to card front using Clear Double Sided Adhesive.
Cut White Soft Finish Cardstock 6" X 4-1/2" adhere to card front using Clear Double Sided Adhesive.
Using Susan's new Garden Notes Wooden Fruit Crate die cut 1 from brown cardstock and 1 from wood grain patterned paper that has Clear Double Adhesive on the back. (Els Through the Lens - Wood Series used here) Adhere the wood grain crate to brown crate. Using Clear Double Sided Adhesive on only the outer edges of crate attach crate to card front in lower left corner.
From brown cardstock cut 3-4 berry branches using Els van de Burgt Berry Branch die. Add red berries to branches using either a red Nuvo Crystal Drops or Red Pearl Pen which is what was used here. I did berries on both sides like Susan does as it make them look so real. Set these aside to dry.
Next cut your pine boughs using Susan's Garden Notes White Pine Boughs and Pinecone set and green cardstock. I cut a bunch of them as I wanted the box full and if any are left you have them for another project. Shade a bit with distress ink then pinch up on needles to give some dimension. Fill your crate with your pine boughs using Kids Choice Glue to attach (I would be careful using too much glue as you need to tuck your berry branches in among the boughs). Once your berry branches are dry add them to crate again using Kids Choice Glue. You will want to cut some of them apart to tuck in smaller areas. Add bow which was made from 1/8" gold ribbon.
Using Suzanne Cannons - A Way With Words - Noel cut 1 from Metallic Gold Shimmer Sheetz using metal adapter plate (this is when you can use piece that was cut from center of your mat) and 1 from black cardstock that has Clear Double Sided Adhesive on back. Adhere the black Noel to gold Noel offsetting ever so slightly. Adhere to card front using Kids Choice Glue.
Using white drying glue add to areas that you want to look like a lite snow has fallen then sprinkle Cool Diamond Silk Microfine Glitter over glue tap off excess and let dry.
I do hope that you have enjoyed my tutorial today and it has inspired you to go create.
Be sure to go to
Elizabeth Craft Designs Blog
to enter for a chance to win a prize.
Below are all the Elizabeth Craft Designs products that were used to make this card and they are all linked to the website so just click on them.
Until next time - Happy Crafting!
Christine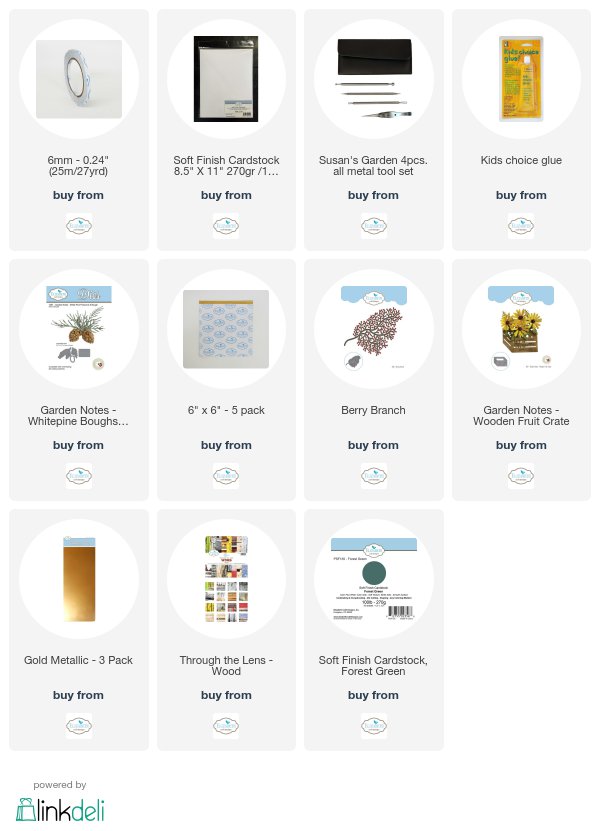 Other Supplies
Red, brown , black and green cardstock
Red Pearl Pen
White Drying Glue
1/8" Gold Ribbon