Autumn Light
Hello everyone welcome to my blog and thank you for stopping by. Today is Susan's Garden September Challenge and the challenge this month is Home Decor using Susan's dies. I chose to decorate a lantern that I have had around for a while and have not been using. Sorry about photo quality as it is very hard to photograph things with glass.
For our Challenge today Elizabeth Craft Designs are giving away a $20 Gift Card to use on the Elizabeth Craft Designs website to 3 winners.
To enter, simply leave a comment on the Elizabeth Craft Designs blog post and answer this question: What Home Decor items do you like to create to use in your home?
We will select 3 lucky winners in a random drawing.
The winners will be announced on Friday, September 15th, on the Elizabeth Craft Designs blog.
*******************
http://wp.me/p4kQzc-74H
Here is how I did it.
1. Cut 7 or 8 Garden Notes Grapevine Wreath from medium brown color cardstock. Shade each one using inks or PanPastels (Distress Oxide re-inkers used here) Lay each one face down on molding mat using medium ball tool from Susan's 4 pc. Tool Kit rub branches all around then turn over and rub branches here and there with ball tool this gives some dimension. Using small amounts of Kids Choice Glue attach wreaths together stacking them as you go.
2. Make 5-7 Sunflowers in colors of your choice using Garden Notes Sunflower 2 die. Susan has a video on
Facebook - Susan's Garden Club
page showing how to do her sunflowers and the Woodland Leaves.
3. For leaves use White Soft Finish Cardstock colored with PanPastels Set 1 rubbing colors all over paper then cut leaves from paper. You could also cut from colored cardstock and shade with PanPastels Set 1. Cut a variety of leaves so you would have enough to go all around the wreath. Lay leaves on leaf mat and using leaf tool from tool kit put vein lines in. Center line is done on back then turn over and put side veins in.
Assembling:
place wreaths inside lantern. Cut a large clear plastic cup so you have approx 2" ring. Attach Sunflowers to plastic ring using Kids Choice Glue. Add a little glue to just top back of sunflower press up against plastic ring evenly spacing sunflowers all around. Add the sunflower leaves. Place ring into lantern setting inside center of wreaths. Add Woodland leaves randomly all around attaching with a little Kids Choice Glue. (if you don't attach and just lay leaves in it would be very easy to change for the seasons).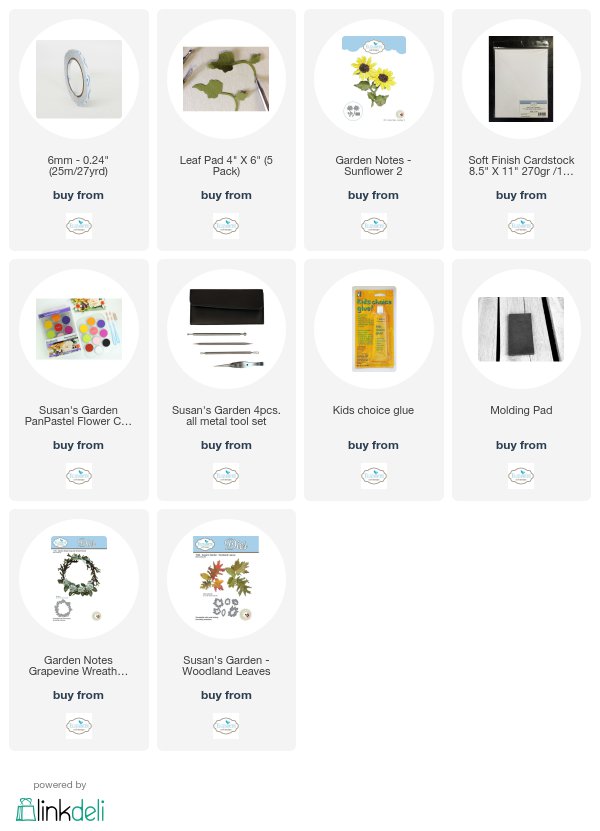 Other Supplies:
Lantern (this one is 13" high 5" dia)
Distress Oxide inks in colors of your choice
Cardstock in colors of your choice
I do hope that this has been inspirational and gives you some ideas on repurposing an old lantern. If you don't have an old lantern I have seen them at places like A.C.Moore, JoAnn's and Hobby Lobby. Mine is fall but you could do any season or decor that you like. By attaching flowers to plastic ring and not attaching leaves but just laying them in there you can certainly change out for different seasons. I am thinking this would be beautiful with Susan's Garden Notes Rose 1 and the Ivy Vine. Be sure to visit
Elizabeth Craft Designs
for all their wonderful dies and supplies. Also be sure to check out their
blog
for details on this months challenge to see all the Design Teams creations and a chance to win.
Until next time - Happy Crafting!
Christine